How healthy living, home building and design, and a furnishing experience have come together to create elevated homes in Western North Carolina.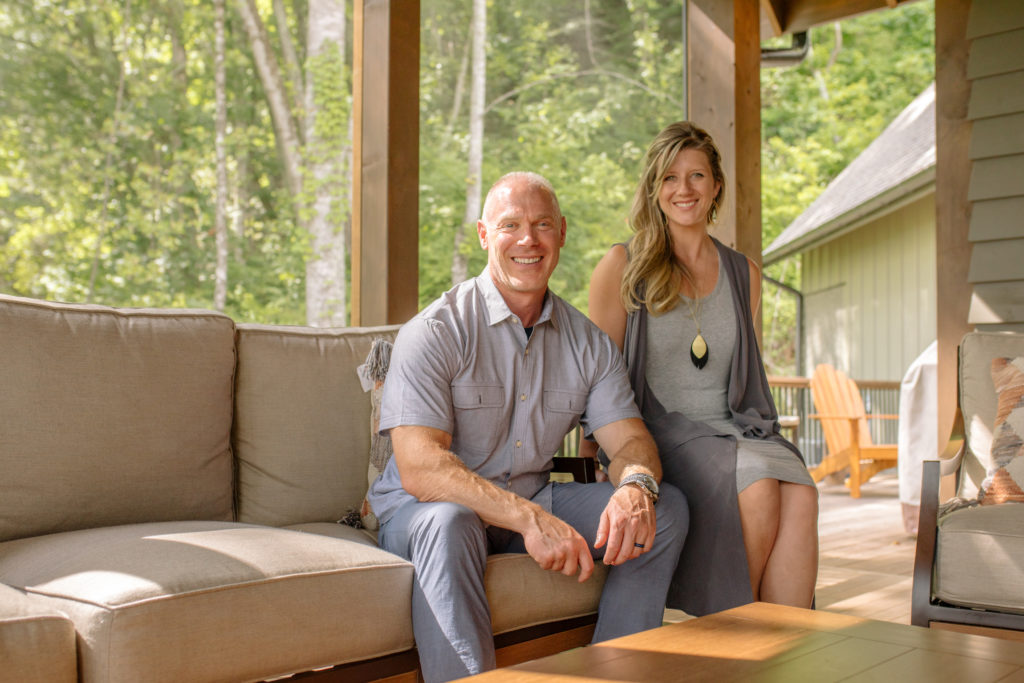 WELLNESS WITHIN YOUR WALLS
What does it mean when a builder says that they build "green"? Jillian Pritchard Cooke, the founder of Wellness Within Your Walls, provides some insight into the true meaning of being green. She explained that, while a crucial component of being green is the sustainable use of resources and having a low environmental impact, a larger part, that is often overlooked, considers the health of the residents. According to the EPA, indoor environments are typically two to five times more toxic than the outdoors. Standard home building materials such as adhesives and finishes contain volatile organic compounds (VOCs). Especially for energy efficient homes with tight envelopes, these toxic vapors remain in the home and can cause health problems over time. On the other hand, statistics show that people who live in green homes are happier, healthier and more productive than those in non-green homes. In response to this problem, Wellness Within Your Walls has taken a holistic approach to health and wellness in the building industry by certifying and promoting healthy eco-sensitive products that result in beautiful, sustainable, non-toxic environments.
"Builders and designers are often only concerned with air quality and what the content of the materials are. However, these are only two components of a much bigger and holistic approach for a healthier environment."

JILLIAN PRITCHARD COOKE
FOUNDER OF WELLNESS WITHIN YOUR WALLS
There are some misconceptions about the meaning of building and living green. One of the biggest is about the word "natural." Many believe this word means that a product is safe to use or eat, but this usually isn't the case. For example, radon, lead, and mold are all naturally-occurring but are highly toxic. Another misconception is the belief that if a home is built in a healthy way, then a healthy environment is ensured. However, it's really up to the homeowner to maintain a clean home through behavioral strategies.
Jillian recalls that Sean and Laura were some of the first people to become WWYW certified because they made health and wellness in the home a priority. They understand how important it is to ensure that one's home isn't just "green", but that the homeowner's health and wellness are considered throughout the design process. They also know the importance of maintaining the long-term indoor health of a build long after it has been finished. They've implemented this by suggesting behavioral strategies, such as using non-toxic cleaners, locking up chemicals, cleaning vents and ductwork regularly, removing shoes and doing a deep clean twice a year. Clients can use these strategies to responsibly maintain a natural and healthy environment for years to come.
BEAUTIFUL HEALTHY HOMES INSIDE & OUT
Sean and Laura Sullivan are the first pioneers to bring Wellness Within Your Walls to Asheville and are currently part of a nationwide pilot program for a new IAQ certification checklist.
A DREAM MATERIALIZED
Cindy Sennett came to Living Stone with a simple vision of what she wanted for her future home. She had never built a custom home before and admits that she found many aspects to be daunting. She was less concerned about the home's details and more interested in the need to have space and a layout for a very large family to visit and share time together. She sought to have a contemporary space that was also warm and comfortable, with a good balance between wood and glass. The most important element for her was the outdoor living space, which came to life with artfully designed sundecks, an outdoor kitchen and fireplace, and an infinity edged pool and spa that was designed to feel like it overhangs the mountain.
"The collaboration between Living Stone and ID.ology was just amazing. They gave me more than I dreamed of! It was the best thing I could have done. I wouldn't change a thing."

CINDY SENNETT
CLIENT, SATISFIED HOME OWNER
After Sean created a frame and style for the home based on Cindy's vision and after meeting with ID.ology to consider improvements and finishes, the concept was presented. Through the various phases of construction, Cindy began to see her idea come to life, which was the most exciting part of the entire process.
Given that the Sennett Home was built on a very steep mountain, the design process required a lot of careful planning and expert engineering. This home is truly a feat of engineering, design, building, and innovation and took the collaboration of the Living Stone and ID.ology teams to masterfully execute. At the end of the day, Cindy didn't just end up with her dream home, she ended up with a healthy home, a new appreciation for the building process, and new friends.
A Truly Custom Home
10' tall multi-slide pocketing doors.
Cantilevered desks with glass railings that maximize views and minimize impact.
Great room features art lift TV niche over custom slate fireplace facade.
Custom floating wood and glass stairs.
Other exciting features include:
Solar; 3-story elevator; Outdoor kitchen and cabana; Living Stone standards: Energy Star, Greenbuilt, indoor AirPlus, aging-in-place, low-maintenance; Ample storage; Stylish; Contemporary; Healthy furniture by ID.ology Interiors & Design.
"The Sennett Project was special because Cindy took some risks and trusted us to do something spectacular for her. Anytime a client takes that leap of faith, the reward is nothing short of exceptional!"

SEAN D. SULLIVAN OWNER OF LIVING STONE & ATELIER MAISON
ATELIER MAISON & CO.
Sean and Laura are taking their dedication to beautiful, happy and healthy homes a step further with a new home furnishings destination that will be opening in late 2019. Atelier Maison will be located in an expansive showroom in the Biltmore Village area in Asheville and will feature custom, healthy and quality brand name furnishings along with accessory items such as pillows, lighting, rugs, linens and art. The products will be in line with Living Stone and ID.ology's values around healthy, green living and an abundance of furnishings created from healthy fabrics and materials.
The duo developed Atelier Maison with the mission to infuse VITALITY (an acronym for Value, Integrity, Timeliness, Artisan, Loyalty, Individuality, Trust and Youthful energy) into homes and to uniquely create, customize and craft furnishings to enhance lifestyle and individuality.
Shopping at Atelier Maison isn't like your typical shopping trip. This unparalleled furniture experience features hands-on design concierge services, high-quality, healthy furniture and accessories, and monthly warehouse sale events that highlight music, food trucks, an outdoor movie theatre, pet park, live performances and much more!
LIVING STONE DESIGN + BUILD
livingstoneconstruction.com
855.720.2435
ID.OLOGY INTERIORS & DESIGN
idologyasheville.com
828.252.4403